modern design | hidden functionality
The Strato
STRATO line was created by CINEAK in collaboration with a team of renowned designers with the following product in mind: "a beautiful abstract design, hiding complete functionality."
A first-of-its kind, revolutionary line of cinema seating, STRATO's truly modular design combines the plush comfort of a couch with the functionality of a traditional high-back theater seat.
In addition to its clean-cut form, its design is appealing thanks to its concealed dual motorized incline relax system. This system allows the user to control the movement of the seating part, position of the footrest and adjust the height of the headrest independently.
Elegant lines, unparalleled seating comfort and a modular concept makes for a wealth of potential layouts and applications for this outstanding sofa.
The STRATO line consists of the following elements which can be modularly configured and have multiple available widths: regular seats, armrests, a corner piece, and chaise lounge beds.
STRATO Features
Heavy-duty steel frame mechanism featuring our dual motorized or relax function. The dual motors allow for the backrest and footrest to operate independently from one another to ensure maximum comfort for the user by fine-tuning their preferred seating position.
Hand-crafted and ergonomically designed, using high-quality materials and high-density foam allows for maximum seating comfort for hours of movie and other viewing experiences.
Strato vs. Strato Plus –   The difference is that Strato Plus offers an additional height in head support and an aesthetically pleasing slanted back.

Backlit Keypads
These LED backlit keypads control the motorized mechanism,
they are programable (light intensity, timer, etc.)
and allow the user to have presets/memory settings.
Modularity = Creativity

Modular mechanisms allow for extensive flexibility and freedom to make up a perfect and unique seating layout that meets design and personal requirements. Just like all CINEAK products, STRATO is modularly built and consist of different elements such as; seats, armrests, chaise beds, corner pieces, flexible arms, etc. in several standard or custom widths. With these elements, one can put together any preferred seating layout which perfectly fits your space.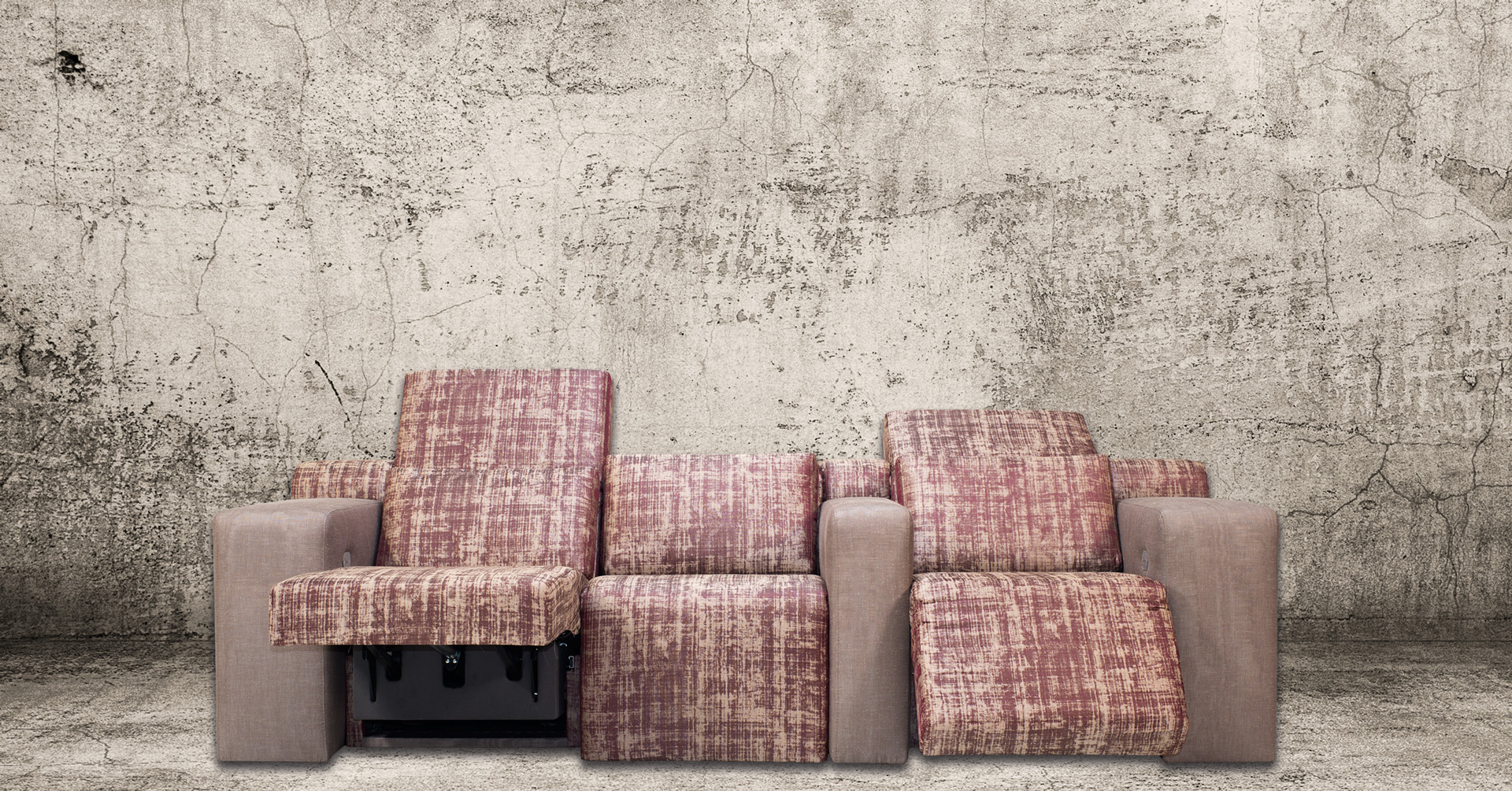 UPHOLSTERY
A WIDE VARIETY OF LUXURIOUS LEATHERS, EXCLUSIVE DESIGNER FABRICS OR CUSTOMER SUPPLIED UPHOLSTERY
Our collection of luxury, top grain leathers and exclusive designer fabrics offers our customers a wide variety of upholstery options with endless colors, patterns, textures, etc. Perforation of leather is available upon request.