WORLD'S ULTIMATE MOVIE PLAYER MEETS THE BENCHMARK OF LUXURY SEATING
Founded in Belgium and family run for two decades, CINEAK has revolutionized the luxury seating experience through its passion for design, quality of materials, level of customization, technology, craftsmanship and attention to detail. Kaleidescape is the only digital provider of movies at full reference fidelity. Downloaded to a local server and encoded with automation cues, Kaleidescape movies can be played in any room for a true cinema experience throughout the home. Kaleidescape's high bar for excellence drives its meticulous craftsmanship, in everything from user interface to hardware to transcoding movies. With CINEAK and Kaleidescape, just press play and watch the seat automatically recline, headrests adjust, and the lights dim as the movie starts. It's the perfect match for anyone looking to deliver the ultimate cinema experience.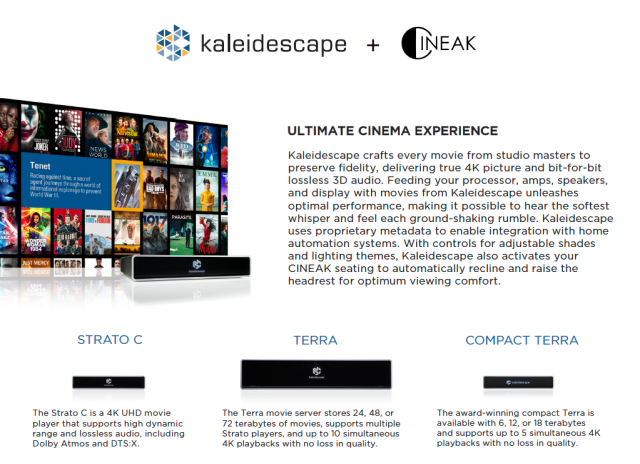 ULTIMATE CINEMA EXPERIENCE Kaleidescape crafts every movie from studio masters to preserve fidelity, delivering true 4K picture and bit-for-bit lossless 3D audio. Feeding your processor, amps, speakers, and display with movies from Kaleidescape unleashes optimal performance, making it possible to hear the softest whisper and feel each ground-shaking rumble. Kaleidescape uses proprietary metadata to enable integration with home automation systems. With controls for adjustable shades and lighting themes, Kaleidescape also activates your CINEAK seating to automatically recline and raise the headrest for optimum viewing comfort.
UNIQUE SEATING DESIGN CINEAK products are made with the highest-quality materials, including Italian stitched leather and French fabrics, resulting in an exclusive product that guarantees years of comfort and enjoyment. CINEAK offers first-to-market technology that increases the functionality of the seat, ensuring ultimate performance. Seats can include heating and cooling ventilation, dual and triple-motorized mechanisms controlled by illuminated keypads with preset functions, electronic lumbar support, motorized articulating headrests, control over the seats using the home automation system, USB-C and wireless charging, cooling cupholders and other premium accessories. Just press play and the lights dim, the seat reclines, the headrest adjusts, and you are immersed in the movie.